Posts for: December, 2017
By Beverly Claiborne DDS
December 24, 2017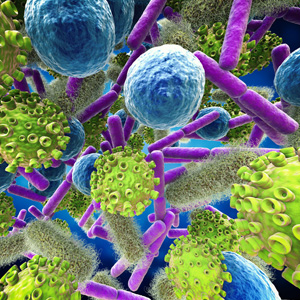 Most people associate bacteria with disease and ill health. But the real story about the trillions of microscopic organisms now living in and on your body is a bit more complicated. With recent advances in genetic code research scientists are learning that many of these microorganisms you're hosting are actually beneficial for you — including your teeth and gums.
Beginning at birth and throughout your lifetime you are continually developing a distinct microbiome — actual communities of bacteria and other microorganisms that inhabit your body. As your microbiome develops it helps train your immune system to distinguish between "good" bacteria that help with digestion and other bodily processes and "bad" bacteria that cause disease.  And it continually adapts to changes in what we eat, the pets we acquire or the drugs we take.
But lifestyle choices like diet can also have a detrimental effect, causing harmful bacteria to become dominant. This seems to be the case with Streptococcus mutans, the bacterial strain most associated with tooth decay. Scientists have analyzed biofilm (plaque deposits on teeth) from the pre-industrial era before 1900 and compared it with modern biofilm samples. They've found Streptococcus mutans levels to be much higher in modern biofilm, which they directly attribute to the modern Western diet.
As we gain a better understanding of these findings and of the role of bacteria in our lives, it could change many health recommendations not only about diet but about medications too. In the fight against disease, for example, we've used antibiotics to eradicate infection-causing microorganisms, but with a broad destructive ability that can also kill many beneficial strains of bacteria. It's hoped as our knowledge grows we'll be able to create newer drugs that more narrowly target harmful microorganisms while not affecting beneficial ones.
There's a new appreciation emerging for bacteria's role in our lives. As a result efforts to rebalance a person's microbiome when they become sick may eventually become a critical element in healthcare treatment strategies. The benefits of this strategy for health, including for our teeth and gums, could be quite impressive.
If you would like more information on the role of bacteria in oral health, please contact us or schedule an appointment for a consultation. You can also learn more about this topic by reading the Dear Doctor magazine article "New Research Shows Bacteria Essential to Health."
By Beverly Claiborne DDS
December 09, 2017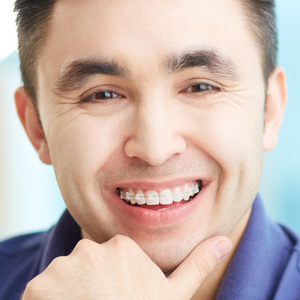 It's something you think about often—especially when you look in a mirror or at a photo of yourself. You wish something could have been done about it a long time ago. But now you think you're too old to correct your misaligned teeth—your "crooked" smile.
Actually, you can transform your smile through orthodontics, whatever your age. Millions of your peers have done just that—currently, an estimated one in five orthodontic patients is an adult.
If orthodontics isn't right for you it won't be because of age, but most likely the condition of your gums and underlying bone or your overall health. That first factor is extremely important: if you've lost a significant amount of bone due to periodontal (gum) disease, there may not be enough to support the force of moving the teeth during orthodontics.
Health conditions like severe heart-valve disease, uncontrolled diabetes or drugs to treat arthritis or osteoporosis can also make tooth movement difficult. And, if you have restricted saliva flow (dry mouth), wearing orthodontic devices could be uncomfortable and increase your risk of tooth decay.
If, however, your mouth and body are reasonably healthy (and you don't have a difficult bite problem to correct), there's no reason why you can't undergo orthodontic treatment. The only other thing that might hold you back is concern over your appearance during treatment. Many adults balk at the possible embarrassment of wearing metal braces "at their age."
If this is a concern, you may have an alternative: clear aligners. These are a series of computer-generated clear plastic trays that conform to the individual contours of your teeth. Each tray is slightly different—you wear one for a short period of time (usually two weeks) before moving on to the next tray to successively and gradually move your teeth. They're nearly invisible to others and, unlike fixed metal braces, you can take them out for a rare special occasion.
The only way you'll know whether correcting your misaligned teeth is a viable option is to undergo a full orthodontic evaluation. From there we can help you decide if and how you want to gain a straighter, more attractive smile.
If you would like more information on adult orthodontics, please contact us or schedule an appointment for a consultation. You can also learn more about this topic by reading the Dear Doctor magazine article "Orthodontics for the Older Adult."