By Beverly Claiborne DDS
October 26, 2018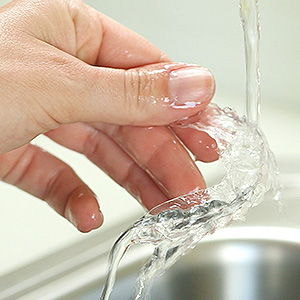 In October, the American Dental Hygienists' Association sponsors National Dental Hygiene Month to remind everyone that having good oral health is directly related to practicing good oral hygiene at home. This includes brushing twice each day with fluoride toothpaste and flossing at least once per day. But sometimes we forget that dental hygiene applies not just to your teeth but also to anything you regularly wear in your mouth. This includes removable dentures (full or partial), clear aligners, nightguards, mouthguards and retainers. If you (or your kids, or seniors you know) wear any of these, please review the three appliance-care tips below.
1. CLEAN IT. Just like natural teeth, an oral appliance worn every day needs daily brushing. But toothpaste isn't an appropriate cleanser for these devices; it's too abrasive. The grainy particles it contains are great for scrubbing plaque and bits of food from the hard enamel coating of teeth—but they can actually leave little nicks in the plastic of your oral appliance, creating areas for bacteria to hide. This can eventually cause odors and stains. Instead, clean appliances with liquid dish soap or denture paste. Buy a separate brush for your appliance—don't use the same one that you use on your teeth. It can be a very soft regular toothbrush, nail brush or denture brush.
2. RINSE IT. After cleaning your appliance, rinse it thoroughly. But don't use hot water—and never boil an oral appliance to sterilize it! Your device was custom-made for your mouth, and it needs to fit precisely to do its job. Hot water can warp the appliance and change the fit, possibly rendering it useless or even harmful. For example, a warped orthodontic aligner might not move teeth into the correct position. Remember: the goal is to kill bacteria, not your appliance!
3. STORE IT. Keep your appliance in a safe place—away from curious pets and toddlers. When you are not wearing it or cleaning it, your device should be packed away in its case or soaking overnight in water or a cleaning solution according to your original instructions.
If you have any questions about oral appliance care or oral hygiene, please contact us or schedule an appointment for a consultation. You can also learn more by reading the Dear Doctor magazine articles "10 Tips for Cleaning Your Oral Appliance" and "10 Tips for Daily Oral Care at Home."
This website includes materials that are protected by copyright, or other proprietary rights. Transmission or reproduction of protected items beyond that allowed by fair use, as defined in the copyright laws, requires the written permission of the copyright owners.